The Global Trade Park has over 50-acres (20.2 hectares) of developable land for office, light manufacturing and warehouse/distribution facilities. We are flexible: We will sell a site or build-to-suit lease back, depending on your needs.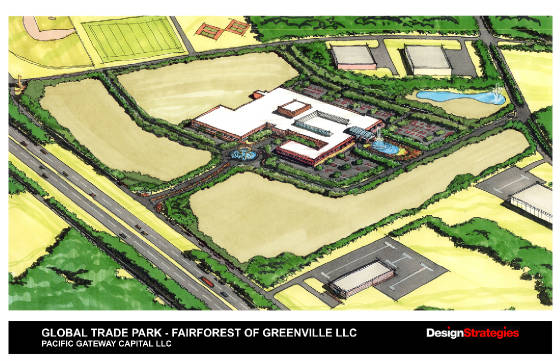 Other Features of the Global Trade Park include:
Incentives: Pre-qualified for state and local incentives with Mulit-County Park status already in-place including State Job Tax Credits and Property Tax Abatements.
Foreign Trade Zone (FTZ): The only FTZ in Greenville, SC. (under application)
Utilities: All utilities in-place.
Master Retention: Master retention for the entire Global Trade Park, maximizing the use of your site for your facility requirements.
S-1 Zoning: Zoned S-1 providing maximum flexibiltiy.
CCRs: Existing Covenants and Restrictions.
I-85 Frontage: Interstate visibility for the majority of the property with over 2,200 feet of Interstate I-85 frontage.
Global Trade Park
28 Global Drive, Suite 100
Greenville, SC 29607
Phone: 864.242.2288
Fax: 864.271.1628